Genres: Sci-Fi, Fantasy, Alternate History
 It's been awhile since I've recommended multiple books, and it's mainly because I've been stuck into series for the past few months (Kim Harrison's Hollows series, Neal Asher's Agent Cormac series, and others), which are less interesting to hear about! For the Christmas break, I decided to pick some of the books that have been on my TBR list for a very long time, and are supposed to be very good. As it happened, all three of the books I chose were pretty fantastic – and they all had great female protagonists!
I started with Mary Robinette Kowal's The Calculating Stars, which is an alternate history of spaceflight that won the 2019 Nebula, Locus, and Hugo awards (and has also been very highly recommended by Brandon Sanderson, of whom I am also a huge fan).
It's 1952, and the world as we know it is gone. A meteorite has destroyed Washington DC, triggering extinction-level global warming. To save humanity, the world unites to form the International Aerospace Coalition.

Its mission: to colonise first the Moon, then Mars. Elma York, World War Two pilot and mathematician, dreams of becoming an astronaut – but prejudice has kept her grounded. Now nothing – and no man – will stop her from reaching for the stars.
It was a pretty fascinating, unputdownable read – I finished it in a day – and it definitely made me want to read Hidden Figures: The Untold Story of the African American Women Who Helped Win the Space Race by Margot Lee Shetterly – which, let's be honest, has also been on my TBR pile for the last year or two – since in the novel, Elma works as a computer. This is the first in the Lady Astronaut series, of which there is currently one more, and several more in the works (the third book comes out this year).
The second book I read was The Tethered Mage, by Melissa Caruso, which is the first in the Swords and Fire trilogy, and was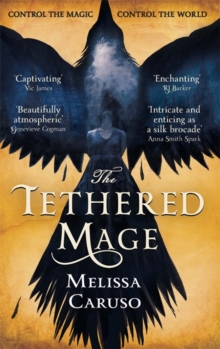 my fantasy pick for the break.
In the Raverran Empire, magic is scarce and those born with power are strictly controlled – taken as children and conscripted into the Falcon Army. Zaira has lived her life on the streets to avoid this fate, hiding her mage-mark and thieving to survive. But hers is a rare and dangerous magic, one that could threaten the entire empire.

Lady Amalia Cornaro was never meant to be a Falconer. Heiress and scholar, she was born into a treacherous world of political machinations. But fate has bound the heir and the mage.

And as war looms on the horizon, a single spark could turn their city into a pyre. 
I was drawn to this book based on the premise of the magic system, where mages (Falcons) have their magic controlled through magic bracelets by their partner (Falconer), and thoroughly enjoyed this Venetian-inspired political intrigue, despite often being less into political books. It is listed as an adult fantasy book, though it definitely felt more YA, as the main characters are around eighteen and just starting to grow as people.
The final book I read (and my final book of the year) was also one that I couldn't put down, and stayed up late reading to finish it in one day – The Long Way to a Small, Angry Planet by Becky Chambers, the first in the Wayfarers series. This was probably my favourite book of the three, and I'm thrilled that there are two other books already out! I had thought this was a trilogy, however looking closer, it seems like the books in this series function more like standalones, with character crossovers.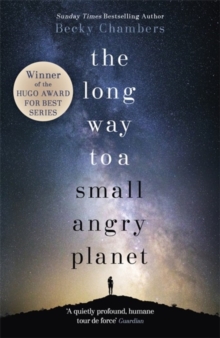 When Rosemary Harper joins the crew of the Wayfarer, she isn't expecting much. The ship, which has seen better days, offers her everything she could possibly want: a small, quiet spot to call home for a while, adventure in far-off corners of the galaxy, and distance from her troubled past. But Rosemary gets more than she bargained for with the Wayfarer.

The crew is a mishmash of species and personalities, from Sissix, the friendly reptilian pilot, to Kizzy and Jenks, the constantly sparring engineers who keep the ship running. Life on board is chaotic, but more or less peaceful – exactly what Rosemary wants. Until the crew are offered the job of a lifetime: the chance to build a hyperspace tunnel to a distant planet.

They'll earn enough money to live comfortably for years… if they survive the long trip through war-torn interstellar space without endangering any of the fragile alliances that keep the galaxy peaceful. But Rosemary isn't the only person on board with secrets to hide, and the crew will soon discover that space may be vast, but spaceships are very small indeed. 
I tend to love books that focus on an ensemble cast and the interpersonal relationships, which this book very much does. Mechanic Kizzy is also very reminiscent of Firefly's Kaylee, which is pretty fun! I highly recommend this book, and I'm very much looking forward to reading the next books.