Upcoming English Book Events
The Autistic Experience – Book Event 
Anybody who has read the DSM entry on Autism Spectrum Disorder will know it lists deficits in areas of communication and interaction. But what it is really like to view life from behind the autistic lens? This was the question psychologist and psychotherapist Marie-Laure Del Vecchio asked when she, and co-writer and photographer Joe James, starting collecting stories from people on the autistic spectrum. The result is The Autistic Experience: Silenced Voices Finally Heard.
Sometimes sad, sometimes funny, often shocking, these stories from people across the globe explore all aspects of autistic life – from the earliest childhood memories to the challenges facing the autistic parent or grandparent. From school days to office life, from teenagers to those in their seventies, across all genders, from people who are homeless to NASA scientists to Olympic medallists,

A graduate of UNIL, Marie-Laure set up her own practice in Lausanne two and a half years ago. In her professional life, she seeks to value human diversity, particularly by working with neurodivergent people.
She chose to move away from a pathologising view of autism and to focus instead on the distinctive features of this neurotype, and approaches autism as a way of functioning, a way of reading the world and feeling the world that is not only unique but also relevant. 

Now a debut writer  – her book is being published next week by John Murray – she will be in the bookshop on Tuesday, 25th July, from 18.30 to talk about her work and her book. Marie-Laure is a long-time customer of the shop and is an engaging and speaker (so not to be missed!). If you would like to come please either reply to this email or sign up here. There has already been an extraordinary response this book and we will be limiting places to 30 people:
Previous Events:
Printed Books in the Digital Age: A Conversation with Jonathan Simons of the Analog Sea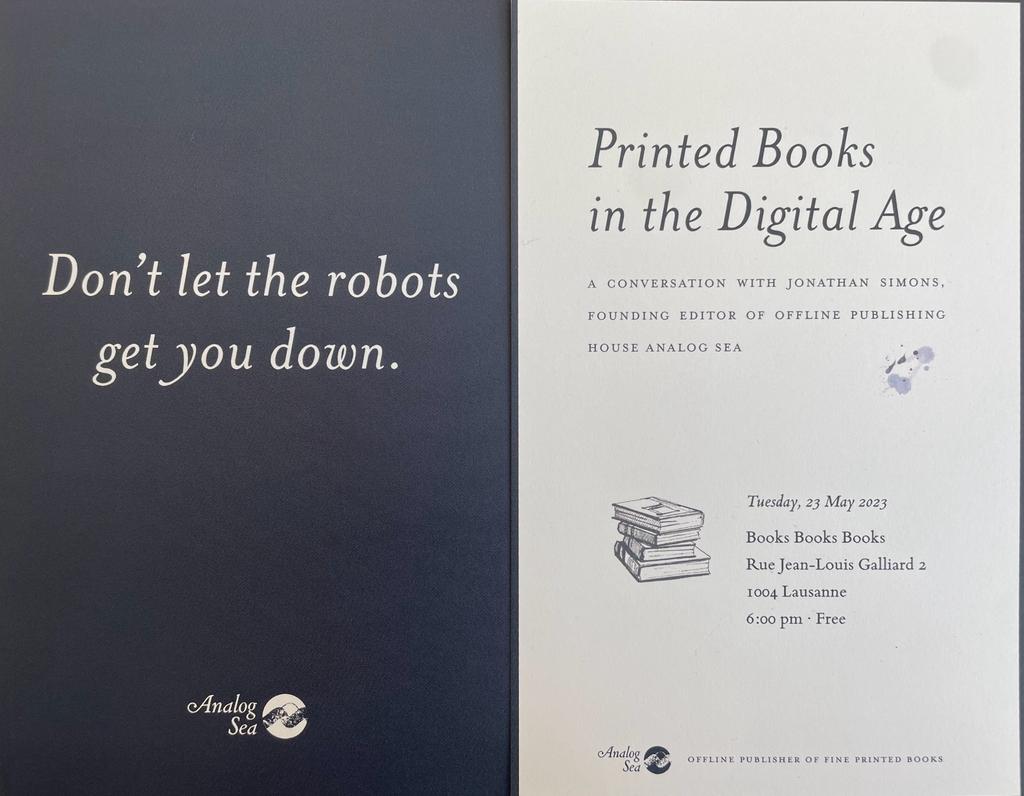 Rebelling against the idea that 'If you're not online, you don't exist,' Jonathan created a pocket-sized review which collects together poetry, essays, fiction, illustration and fine art for those "wishing to maintain contemplative life in the digital age.'" Editions are only available in print and exclusively in bookshops. All correspondence with the publisher is conducted by post rather, and their single webpage simply lists two mailing addresses, one in Freibury Germany, the other in Austin, Texas.
Matthew will be chatting to Jonathan on Tuesday, 23rd May at the bookshop on the role and relevance of Printed Books in the Digital Age. Doors open at 18.00 and we'll start the conversation at around 19.00.
If you would like to join us – and I hope you will! – then please sign up via Doodle – or send us a letter. As always, there will be drinks and snacks and friendly people to chat to (plus a bookshop to explore).
Jonathan Simons is the founding editor of offline publishing house Analog Sea and its literary journal, The Analog Sea Review. As a poet and essayist, he has written for publications including The London Magazine, PN Review, El País, subTerrain Magazine, and The Analog Sea Review. His work has been covered by, among others, the Guardian, the Times Literary Supplement, the Washington Post, Toronto Star, and La Vanguardia. He researched Buddhist poetics at Naropa University and McGill University and was formerly a visiting scholar at the Max Planck Institute for Human Development, Center for Humans and Machines, in Berlin.
Zoe Perrenoud Book Signing — Saturday, July 30th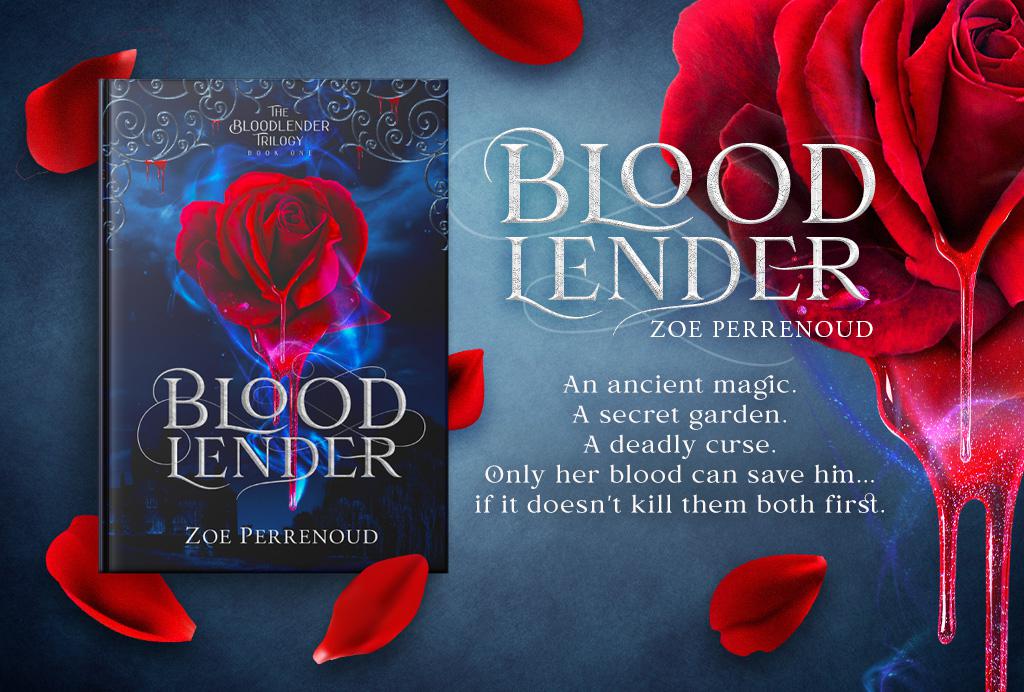 Zoe Perrenoud will be in the bookshop on Saturday, July 30th from 2-4pm to sign copies of her new book, Bloodlender!
Zoe came into the bookshop ten years ago, when we were back on Rue de la Mercerie. She was just finishing up a writing course, and said that she would write a book and hold an event in the bookshop. We are thrilled that the event is finally coming to fruition with BLOODLENDER!
An ancient magic. A secret garden. A deadly curse.

Haunted by her father's unsolved murder, all sixteen-year-old Sophie wants is to keep a low profile. Instead, there's a dangerous magic stirring in her veins… and she has no idea how to stop it.

After she accidentally puts her mother in a coma, Sophie is forced to move in with the elusive Delville family, whose historic French manor holds secrets even darker than hers. Their son, Gauthier, is dying from a mysterious illness, while deep in the abandoned garden, old ghosts are stirring.

As she struggles to control her powers, Sophie learns that she is Gauthier's last hope. But when new evidence about her father's death threatens to shatter their growing bond, she faces the ultimate dilemma: get revenge or save the boy she's falling for…

…that is, if her blood doesn't kill them both first.

BLOODLENDER is the first instalment in the Bloodlender Trilogy, a young adult fantasy series that blends magic, mystery and suspense.
You can find out more about Zoe on her website, https://zoeperrenoud.com/
We hope to see you there!
Paul Scraton at the bookshop – Friday, 24th June
A while ago I got a subscription to an independent publisher in the UK called Influx Press. I read the quietly brilliant The Country Will Bring Us No Peace (Matthieu Simard), then Steve Hollyman's Lairies, which seemed to be my life in the 90's reflected back to me. Then I got in the post a slim book with a strange black and white photograph on the cover…
This was In the Pines by Paul Scraton and I was an instant convert. It is a collection stories that take place in an unnamed town surrounded by pines and infused with burning nostalgia. Reading it made me feel as if my favourite characters from the books I read in my twenties had grown into slightly damaged yet nuanced adults who could not help but pick at the scars of their younger selves.
The black and white photograph on the cover was taken in collaboration with Eymelt Sehmer, using a 170-year-old technique of collodion wet plate photography and there are more photographs within. One of the delights of this book is the way the narrative of the text and the medium of the photos speak to each other, as if to highlight the clarity of our present against the blurred edges of recollection.
For me this is one of those books I was sad to finish. Sad that the story had run its course and that I had to say goodbye to the characters.
Paul's Built on Sand, his non-fiction work about Berlin and his experiences living in the city, is equally well written and also infused with a yearning for the past, both recent and distant. I am currently saving up Ghosts on the Shore for my next holiday when I can take the opportunity to savour it.
Paul is coming to the bookshop on Friday, 24th June at 18.30 to talk about his work, and I for one am counting down the day. Please contact us if you wish to attend, or click the box on this Doodle poll. We will be serving wine, water and snacks.
In the meantime, we are selling Paul's books at the shop, and it's more than worth checking out the journal Paul edits – Elsewhere: A Journal of Place – which is, "dedicated to writing and visual art that explores the idea of place in all its forms, whether city neighbourhoods or island communities, heartlands or borderlands, the world we see before us or landscapes of the imagination."
Book Event: Jo Ann Hansen Rasch's New Collection of Poetry
Jo Ann Hansen Rasch was one of the first – if not the first – writer we had at the bookshop, so it's a great pleasure to have her back some 12 years later for the launch of her second poetry collection Dancing Light Sings.
Born during the dramas of the last two or three years, the poems span a lifetime, revealing not only lighter moments, but darker legacies too. Jo Ann's poetry is personal and written in simple confident language. Born in New Zealand, but living most of her adult life in Lutry, she has published a memoir, a book of poetry and many essays, short stories and poems.
The event is taking place on Saturday, 9th April. We will serve light refreshments from 18.30 and the reading will start at 19.00. Please sign up here if you wish to attend.
Caroline Bishop, March 4th at the Bookshop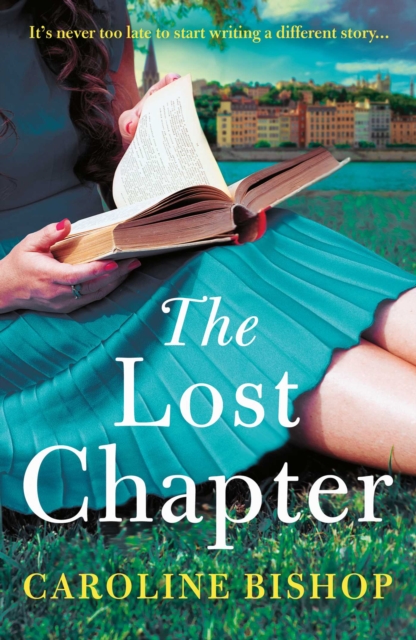 We are delighted to hold our first event after a two-year hiatus, and it seems appropriate that Caroline Bishop should be the first author to visit. Caroline's debut novel, The Other Daughter, came out just when we had to close, so it's great to have her here on the publication of her second book, The Lost Chapter.
Caroline is a Lausanne-based author and journalist, who has written for The Guardian, The Telegraph, and BBC Travel, among many others.
The Lost Chapter is a captivating story about friendship, long-held secrets, and learning to live past fears. It tells the story of Florence and Lilli who became friends at a finishing school in Lyon in 1958. Now eighty years old and living in England, Florence is the bold, independent woman Lilli knew she could be – the exact opposite of Florence's neighbour Alice. Florence is determined to help bring Alice out of her shell, just as Lilli once did for her. When Florence discovers that the novel she's reading is written by Lilli and is based on their time at school, the two stories begin to unfold together, and it becomes clear that some secrets can't stay buried forever.
Come to the bookshop on Friday, March 4th at 6:30pm to catch up with the local literary scene with some light refreshments, and hear Caroline speak starting at 7pm, followed by a book signing. Please sign up here.
Poetry and Scones at the Bookshop!
Come to the bookshop on Saturday, 7th December at 4pm for the launch of Carla Drysdale's new poetry collection – All Born Perfect. The poems are written with Carla's trademark candour and craft, combining a poet's lyricism and the matter-of-fact tone of a survivor. The works depict a working mother bringing up two sons and reveal that the mother's acts of love and labour provoke her own childhood trauma.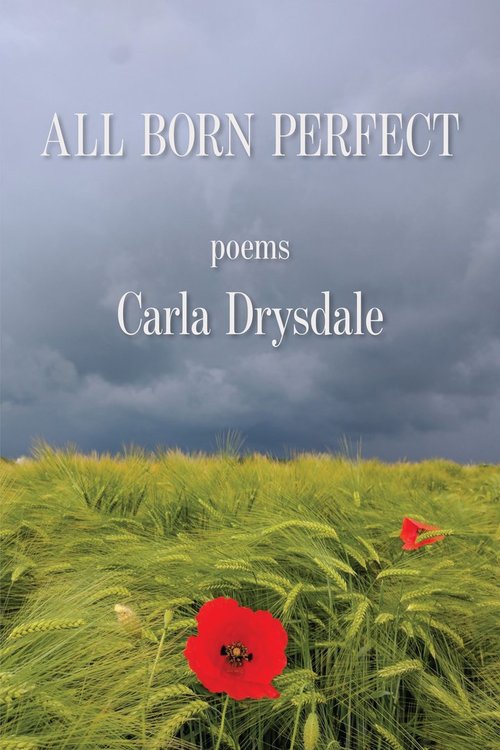 Carla Drysdale's poetry books include All Born Perfect (Kelsay Books, 2019); Inheritance (Finishing Line Press, 2016) and Little Venus (Tightrope Books, 2010). Her poems have appeared in many literary journals, including Cleaver Magazine, LIT, Literary Mama, the Literary Review of Canada, Peacock Journal, PRISM, International Offshoots: Writing from Geneva, The Fiddlehead, What Rough Beast (a project of Indolent Books), and Nasty Women Poets: An Unapologetic Anthology of Subversive Verse.
In 2014 she was awarded PRISM's annual Earle Birney poetry prize. Of her latest book, All Born Perfect, poet Molly Peacock writes, "The marvel of this collection, abounding with unexpected metaphors and driven rhythms, is the deep understanding of time reached by the epiphany of the title poem: All Born Perfect."
Born in London, Ontario, Carla lives in Ornex, France.
Book Event: The Naked Irish
We're delighted to announce that Clare O'Dea will be at the bookshop on Saturday, 9th November talking about her new book The Naked Irish: Portrait of a Nation Beyond the Clichés.
Like her bestselling title, The Naked Swiss, her latest book is an insightful and revealing examination of the reality of modern Ireland behind the national myths.
Are the Irish a nation of emigrants if we have the second highest foreign-born population in Europe? Do we really hate the English and want a united Ireland? Are the Irish really friendly or just faking it?

The event starts at 4pm and we'll be serving tea and scones. The talk will be followed by a book signing.
For more information on Clare and her book please visit her website : https://clareodea.com/2019/10/11/the-naked-irish-in-all-good-bookshops
Looking forward to seeing you then!
10 Years of Books Books Books!
Cast your mind back 10 years to when the global financial crisis hit, when America took North Korea off its list of terrorist countries, and Kim Kardashian chose a new dress. Lost amongst these headlines was the news that Lausanne had a new English bookshop. Situated in a converted fitness studio in the Globus building and stocking 6,000 new books, Books Books Books opened its doors on 13th October 2008.
Feels to me like a good time for a drink! Two even! We're so excited, we're having two parties to celebrate!
Friday, November 30th
We are holding a second party on Friday, 30th November, also starting at 18.00.
This time we have invited Michelle Bailat-Jones to read from her latest novel Unfurled (Ig, 2018). The book was published this month and received a starred review from Publishers Weekly, who described it as, 'a captivating exploration of bereavement, guilt, and forgiveness.
Veterinarian Ella has a close relationship with her ferryboat captain father, John Tomlinson, and a contained life with her scientist husband, Neil. Her life implodes after her father is killed in an accident, leaving Ella unable to cope with her emotions, especially after discovering John had contact with Maggie, her long-absent mother.'
Michelle is a writer, a translator, and reader. Her first novel, Fog Island Mountains, won the 2013 Christopher Doheny Award from the Center for Fiction and Audible. She has been published in storySouth, PANK, The Atticus Review and many other places. She is also the Translations Editor for Necessary Fiction.
Once again, we are expecting a crowd and have limited spaces to 35 people. Just to recap, the celebration starts at 18.00 on Friday, 30th November. Please sign up here.
Friday, November 2nd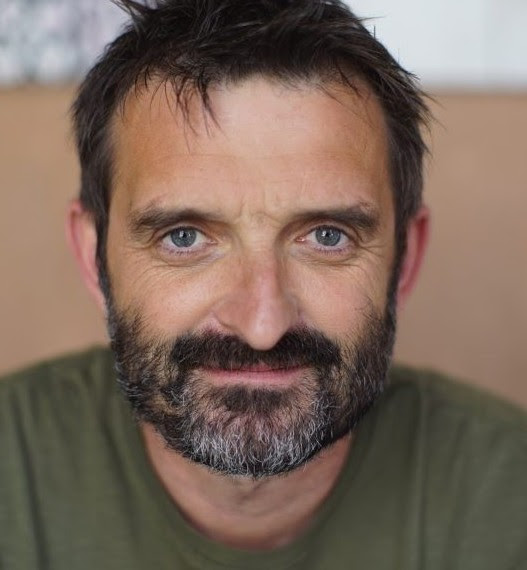 The first party will feature Richard Williams, sometime founder of Holy Cow, now the owner of Blackbird and most recently author of Mostyn Thomas and the Big Rave (Graffeg, 2018).
While running his casual dining empire Richard found time to write his first novel, and it's a good one.
Set in Little Emlyn, Pembrokeshire, it tells the story of how Mostyn, a farmer on the brink of bankruptcy, and Jethro, a young raver, decide to hold a rave to save Mostyn's farm. But as young revellers begin to pour in from all corners of the county things do not go to plan; moneylenders, drug dealers, the county council and the bank all set a collision course with Mostyn and Jethro, and it's not clear who will get out alive. This is an electrifying debut which pits a struggling Welsh faming community steeped in centuries of religion and tradition against the unstoppable rave culture.
It's a particular pleasure to invite Richard back to the bookshop. Those of you with long memories will remember that we opened our shops at almost the same time. Holy Cow even did the catering for our one year anniversary.
The party starts at 18.00 on Friday, November 2nd. We will provide food and drinks, but please think about bringing your own too. Please sign up here, and note that we are limiting entry to 35 people as we expect it to be crowded.
Adrienne Hahn Poetry Reading
Join us on Saturday, November 17th at 15.00 for tea and scones and servings of poetry from Adrienne Hahn's new collection Mind Over Matter.
Adrienne hails from New Zealand and has been publishing poetry regularly for the past 25 years in the GWG Offshoots anthology, Walking in Sand (2006) and On the Edge (2014).
Her latest collection, published by Editions Soleil Blanc (2018) and described by the poet Alison Chisholm as, "Intense, honest, and infused with depth and warmth" and by Michael Hulse as, "a courageous, unfooled autobiography in brightly-recollected moments."
.