Well, once again we come to the start of a new year, and there are many books that I discovered last year, but didn't find the time to read! This list is some of the top books that I haven't found time to read yet. They're not necessarily all books that were published last year, but they're books that I stumbled across and ordered for the bookshop in the past year, and am excited about reading!
While the bookshop will be closed to the general public from next week, we are still open for orders, and are happy to send books to you by post, or you can come to the bookshop to collect orders that have been made in advance (Click and Collect – for further information, click here).
Without further ado, in no particular order, here are some of my top unread sci-fi picks of 2020:
Planetfall by Emma Newman
Renata Ghali believed in Lee Suh-Mi's vision of a world far beyond Earth, calling to humanity. A planet promising to reveal the truth about our place in the cosmos, untainted by overpopulation, pollution, and war.
Ren believed in that vision enough to give up everything to follow Suh-Mi into the unknown. More than twenty-two years have passed since Ren and the rest of the faithful braved the starry abyss and established a colony at the base of an enigmatic alien structure where Suh-Mi has since resided, alone. All that time, Ren has worked hard as the colony's 3-D printer engineer, creating the tools necessary for human survival in an alien environment, and harboring a devastating secret.
Ren continues to perpetuate the lie forming the foundation of the colony for the good of her fellow colonists, despite the personal cost. Then a stranger appears, far too young to have been part of the first planetfall, a man who bears a remarkable resemblance to Suh-Mi. The truth Ren has concealed since planetfall can no longer be hidden.
And its revelation might tear the colony apart…
CHF 14
The Light Brigade by Kameron Hurley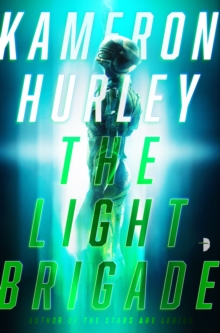 The Light Brigade: it's what soldiers fighting the war against Mars call the ones who come back…different. Grunts in the corporate corps get broken into light, travelling from interplanetary battlefronts. Everyone is changed by what the corps must do.
Those who survive learn to stick to the mission brief – no matter what happens during combat. Dietz, a fresh recruit in the infantry, begins to experience combat drops which don't sync up with the platoon's. And the bad drops tell a story of war that's not what the corporate brass want the soldiers to think it is.
Is Dietz really experiencing the war differently, or is it combat madness? Trying to survive with sanity intact, Dietz is ready to become a hero – or maybe even a villain. In war it's hard to tell the difference. 
CHF 17
To Be Taught, If Fortunate by Becky Chambers
At the turn of the twenty-second century, scientists make a breakthrough in human spaceflight. Through a revolutionary method known as somaforming, astronauts can survive in hostile environments off Earth using synthetic biological supplementations.
They can produce antifreeze in sub-zero temperatures, absorb radiation and convert it for food, and conveniently adjust to the pull of different gravitational forces. With the fragility of the body no longer a limiting factor, human beings are at last able to explore neighbouring exoplanets long suspected to harbour life. Ariadne is one such explorer.
On a mission to ecologically survey four habitable worlds fifteen light-years from Earth, she and her fellow crewmates sleep while in transit, and wake each time with different features. But as they shift through both form and time, life back on Earth has also changed. Faced with the possibility of returning to a planet that has forgotten those who have left, Ariadne begins to chronicle the wonders and dangers of her journey, in the hope that someone back home might still be listening.
CHF 14
The City in the Middle of the Night by Charlie Jane Anders
"If you control our sleep, then you can own our dreams… And from there, it's easy to control our entire lives." January is a dying planet – divided between a permanently frozen darkness on one side, and blazing endless sunshine on the other. Humanity clings to life, spread across two archaic cities built in the sliver of habitable dusk.
But life inside the cities is just as dangerous as the wastelands outside. Sophie, a student and reluctant revolutionary, is supposed to be dead, after being exiled into the night. Saved only by forming an unusual bond with the enigmatic beasts who roam the ice, Sophie vows to stay hidden from the world, hoping she can heal.
But fate has other plans – and Sophie's ensuing odyssey and the ragtag family she finds will change the entire world.
CHF 14
The Future of Another Timeline by Annalee Newitz
"Do you remember when we had the vote?"
In a world that's just a step away from our own, time travel is possible. But war is brewing – a secret group is trying to destroy women's rights, and their access to the timeline. If they succeed, only a small elite will have the power to shape the past, present, and future.
Our only hope lies with an unlikely group of allies, from riot grrls to suffragettes, their lives separated by centuries, battling for a world where anyone can change the future. A final confrontation is coming. 
CHF 14
Jade City by Fonda Lee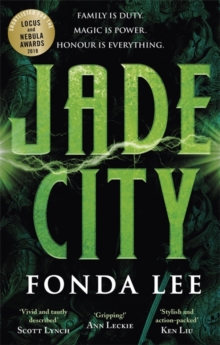 Jade is the lifeblood of the city of Janloon – a stone that enhances a warrior's natural strength and speed. Jade is mined, traded, stolen and killed for, controlled by the ruthless No Peak and Mountain families.
When a modern drug emerges that allows anyone – even foreigners – to wield jade, simmering tension between the two families erupts into open violence. The outcome of this clan war will determine the fate of all in the families, from their grandest patriarch to even the lowliest runner on the streets. Jade City is an epic tale of blood, family, honour, and of those who live and die by ancient laws in a changing world.
** World Fantasy Award Winner 2018 **
Book One of The Green Bone Saga
CHF 14
Ninefox Gambit by Yoon Ha Lee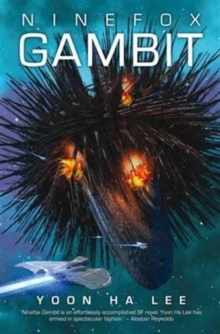 Captain Kel Cheris of the hexarchate is disgraced for using unconventional methods in a battle against heretics. Kel Command gives her the opportunity to redeem herself by retaking the Fortress of Scattered Needles, a star fortress that has recently been captured by heretics. Cheris's career isn't the only thing at stake.
If the fortress falls, the hexarchate itself might be next. Cheris's best hope is to ally with the undead tactician Shuos Jedao. The good news is that Jedao has never lost a battle, and he may be the only one who can figure out how to successfully besiege the fortress.
The bad news is that Jedao went mad in his first life and massacred two armies, one of them his own. As the siege wears on, Cheris must decide how far she can trust Jedao–because she might be his next victim.
Book One of Machineries of Empire
CHF 13
Stay tuned for next week, when I'll put up some of my top unread fantasy picks of 2020!