Genres: Science Fiction and Fantasy
Hey booklovers, while the bookshop is closed for browsing, that hasn't stopped me from ordering in new and exciting books for our stock (and more than a little bit for me, as our sci-fi/fantasy section is basically my glorified TBR list)! These new books are a mix of new releases, and newly-recommended-to-me titles.
Fantasy
The Unspoken Name by A.K. Larkwood 
I'm apparently very excited about this book, as I managed to preorder a paperback copy whenever I first heard about it, and then also ordered a copy last week in anticipation of its publication next week! Guess this one is moving to the top of by TBR list… 
Does she owe her life to those planning her death . . .
Csorwe was raised by a death cult steeped in old magic. And on her fourteenth birthday, she'll be sacrificed to their god. But as she waits for the end, she's offered a chance to escape her fate.
A sorcerer wants her as his assistant, sword-hand and assassin. As this involves her not dying that day, she accepts. Csorwe spends years living on a knife-edge, helping her master hunt an artefact which could change many worlds.
Then comes the day she's been dreading. They encounter Csorwe's old cult – seeking the same magical object – and Csorwe is forced to reckon with her past. She also meets Shuthmili, the war-mage who'll change her future.
If she's to survive, Csorwe must evade her enemies, claim the artefact and stop the death cult once and for all. As she plunges from one danger to the next, the hunt is on . .
First book in the Serpent Gates duology.
CHF 14
Brother Red by Adrian Selby
When the trade caravan Driwna Marghoster was hired to protect is attacked, she discovers a dead body hidden inside a barrel. Born of the powerful but elusive Oskoro people, the body is a rare and priceless find, the centre of a tragic tale and the key to a larger mystery… For when Driwna investigates who the body was meant for, she will find a trail of deceit and corruption which could bring down a kingdom, and an evil more powerful than she can imagine.
Standalone.
CHF 15.50
Queen of the Conquered by Kacen Callender
An ambitious young woman with the power to control minds seeks vengeance against the royals who murdered her family, in a Caribbean-inspired fantasy world embattled by colonial oppression. Sigourney Rose is the only surviving daughter of a noble lineage on the islands of Hans Lollik. When she was a child, her family was murdered by the islands' colonisers, who have massacred and enslaved generations of her people – and now, Sigourney is ready to exact her revenge.
When the childless king of the islands declares that he will choose his successor from amongst eligible noble families, Sigourney uses her ability to read and control minds to manipulate her way onto the royal island and into the ranks of the ruling colonisers. But when she arrives, prepared to fight for control of all the islands, Sigourney finds herself the target of a dangerous, unknown magic. Someone is killing off the ruling families to clear a path to the throne.
As the bodies pile up and all eyes regard her with suspicion, Sigourney must find allies among her prey and the murderer among her peers… lest she become the next victim. 
CHF 21
The Boneless Mercies by April Genevieve Tucholke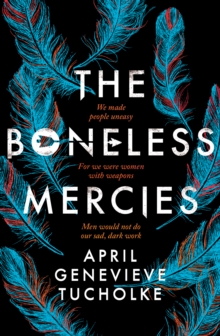 This one is a YA title, but it looks excellent as a general fantasy book as well.
They called us the Mercies, or sometimes the Boneless Mercies. They said we were shadows, ghosts, and if you touched our skin we dissolved into smoke … Frey, Ovie, Juniper, and Runa are Boneless Mercies – death-traders, hired to kill quickly, quietly and mercifully.
It is a job for women, and women only. Men will not do this sad, dark work. Frey has no family, no home, no fortune, and yet her blood sings a song of glory.
So when she hears of a monster slaughtering men, women, and children in a northern jarldom, she decides this is the Mercies' one chance to change their fate. But glory comes at a price … 
CHF 13
Science Fiction
Behind the Throne by K.B. Wagers
This book is a few years old, but a book in the second trilogy recently came out. It sounds good, but I am very much a completist, and would rather start at the beginning, so this is where the story begins!
Meet Hail: Captain. Gunrunner. Fugitive.
Quick, sarcastic, and lethal, Hailimi Bristol doesn't suffer fools gladly. She has made a name for herself in the galaxy for everything except what she was born to do: rule the Indranan Empire. That is, until two Trackers drag her back to her home planet to take her rightful place as the only remaining heir.
But trading her ship for a palace has more dangers than Hail could have anticipated. Caught in a web of plots and assassination attempts, Hail can't do the one thing she did twenty years ago: run away. She'll have to figure out who murdered her sisters if she wants to survive.
Book one of The Indranan War trilogy, with a second trilogy following (the third book of the second trilogy, The Farian War, comes out in February).
CHF 14
Goldilocks by Laura Lam
This is The Martian by way of The Handmaid's Tale – a bold and thought-provoking new high-concept thriller. Despite increasing restrictions on the freedoms of women on Earth, Valerie Black is spearheading the first all-female mission to a planet in the Goldilocks Zone, where conditions are just right for human habitation. It's humanity's last hope for survival, and Naomi, Valerie's surrogate daughter and the ship's botanist, has been waiting her whole life for an opportunity like this – to step out of Valerie's shadow and really make a difference. But when things start going wrong on the ship, Naomi starts to suspect that someone on board is concealing a terrible secret – and realises time for life on Earth may be running out faster than they feared.
CHF 14
Shattered Minds by Laura Lam
I'll be honest, all of Laura Lam's books look really good! Her next book, Seven Devils, comes out in paperback at the beginning of April, so I decided to grab one of her older titles as well!
Laura Lam's Shattered Minds stars a female 'Dexter' with a drug problem and a conscience, in a terrifying near-future where technology rules our lives and haunts our dreams. She can uncover the truth, if she defeats her demonsEx-neuroscientist Carina struggles with a drug problem, her conscience, and urges to kill. She satisfies her cravings in dreams, fuelled by the addictive drug 'Zeal'.
Now she's heading for self-destruction – until she has a vision of a dead girl. Sudice Inc. damaged Carina when she worked on their sinister brain-mapping project, causing her violent compulsions.
And this girl was a similar experiment. When Carina realizes the vision was planted by her old colleague Mark, desperate for help to expose the company, she knows he's probably dead. Her only hope is to unmask her nemesis – or she's next.
To unlock the secrets Mark hid in her mind, she'll need a group of specialist hackers. Dax is one of them, a doctor who can help Carina fight her addictions. If she holds on to her humanity, they might even have a future together.
But first she must destroy her adversary – before it changes us and our society, forever.
CHF 14