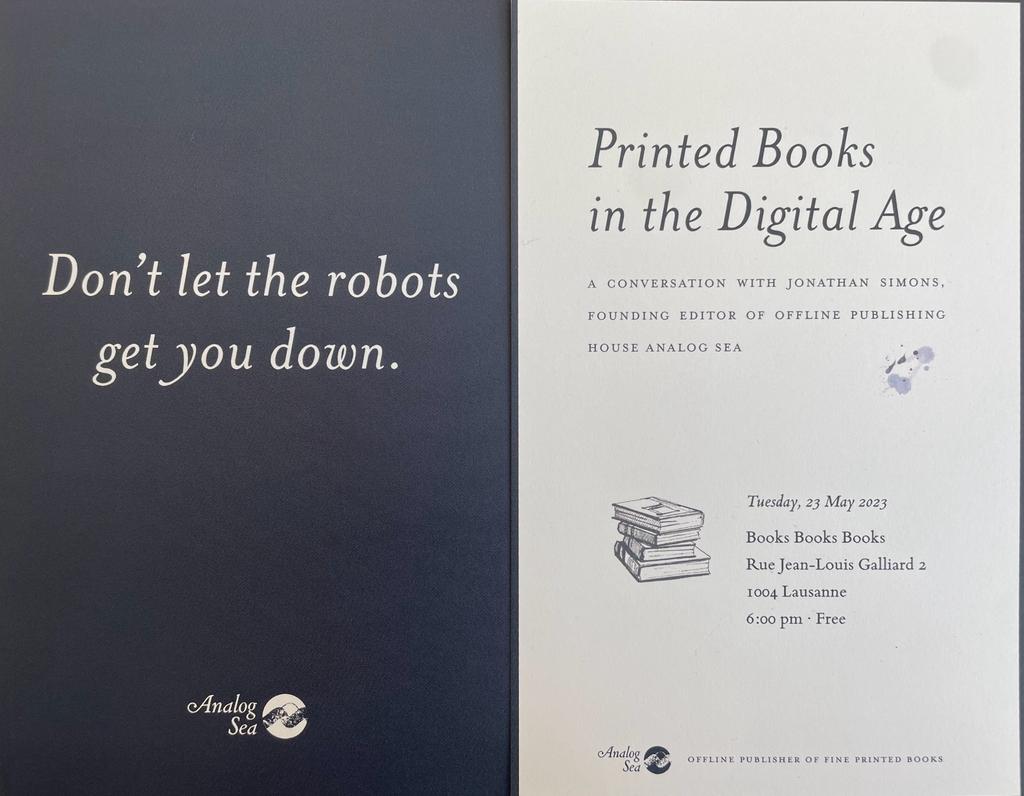 Rebelling against the idea that 'If you're not online, you don't exist,' Jonathan created a pocket-sized review which collects together poetry, essays, fiction, illustration and fine art for those "wishing to maintain contemplative life in the digital age.'" Editions are only available in print and exclusively in bookshops. All correspondence with the publisher is conducted by post rather, and their single webpage simply lists two mailing addresses, one in Freibury Germany, the other in Austin, Texas.
Matthew will be chatting to Jonathan on Tuesday, 23rd May at the bookshop on the role and relevance of Printed Books in the Digital Age. Doors open at 18.00 and we'll start the conversation at around 19.00.
If you would like to join us – and I hope you will! – please sign up via Doodle – or send us a letter. As always, there will be drinks and snacks and friendly people to chat to (plus a bookshop to explore). 
Jonathan Simons is the founding editor of offline publishing house Analog Sea and its literary journal, The Analog Sea Review. As a poet and essayist, he has written for publications including The London Magazine, PN Review, El País, subTerrain Magazine, and The Analog Sea Review. His work has been covered by, among others, the Guardian, the Times Literary Supplement, the Washington Post, Toronto Star, and La Vanguardia. He researched Buddhist poetics at Naropa University and McGill University and was formerly a visiting scholar at the Max Planck Institute for Human Development, Center for Humans and Machines, in Berlin.
Copies of The Analog Sea Journal volumes 1-4 are available for purchase at the bookshop.