For this newsletter, I'm recommending books by two of my favourite authors, who I've most definitely mentioned and recommended before, however these particular book recommendations are a more hopeful, cheerful sort of book
The Monk & Robot Duology by Becky Chambers
I know I've recommended A Psalm for the Wild-Built before, but this duology (the second book is A Prayer for the Crown-Shy) is one of the best things I've read in a while. I've purchased at least three or four copies – and it inspired one of my giftees to purchase Becky Chambers body of work in its entirety (which I whole-heartedly support!). It may be listed as science fiction, but I think it's essential reading for everyone. This series gives hope for the future, and is written in the new, more hopeful solarpunk genre. The first book is dedicated to 'anybody who could use a break', while the second is for 'anybody who doesn't know where they're going', both of which are sentiments that seem more and more prevalent these days. These are novellas, clocking in at 160 pages each, and are refreshingly philosophical books (in beautiful hardcover editions), and I can't recommend them highly enough.
This series asks: in a world where people have what they want, does having more even matter?
It's been centuries since the robots of Panga gained self-awareness and laid down their tools; centuries since they wandered, en masse, into the wilderness, never to be seen again; centuries since they faded into myth and urban legend. One day, the life of a tea monk is upended by the arrival of a robot, there to honour the old promise of checking in. The robot cannot go back until the question of 'what do people need?' is answered.

But the answer to that question depends on who you ask, and how. They're going to need to ask it a lot.
CHF 24 each, in stock.
Tress of the Emerald Sea by Brandon Sanderson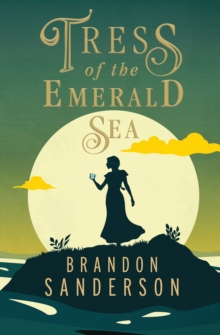 I've definitely mentioned Brandon Sanderson before, as I love his books and the storytelling he does. He is typically regarded as one of the more prolific epic fantasy writers working today (he generally publishes a few books a year, in contrast with some of the other giants, like Rothfuss and Martin, on whom we've all been waiting 10ish years for the next instalments in their series…), however with the pandemic, he did something rather unprecedented, and wrote an additional four novels on top of his regular publishing commitments, which he offered as a kickstarter campaign, raising $41 million, which doubled the previous highest grossing kickstarter. While the kickstarter was for publishing premium editions of these books, there are also regular commerical editions, which will be coming out a few months after the premium books ship to backers.
The first of these four 'secret' novels is Tress of the Emerald Sea. This is a whimsical, lighthearted tale, about a girl who leaves the only home she's every known to sail a very strange green ocean, told by a storyteller with Sanderson's distinctive sense of humour. This book is set in Sanderson's Cosmere, but is a standalone, and doesn't require familiarity with any of his previous books (though there are some nods for those who have). This book hovers between YA and adult fantasy, as Tress is in that growing up period where you find yourself, and it reads rather like a grown up fairytale.
The only life Tress has known on her island home in an emerald-green ocean has been a simple one, with the simple pleasures of collecting cups brought by sailors from faraway lands and listening to stories told by her friend Charlie. But when his father takes him on a voyage to find a bride and disaster strikes, Tress must stow away on a ship and seek the Sorceress of the deadly Midnight Sea. Amid the spore oceans where pirates abound, can Tress leave her simple life behind and make her own place sailing a sea where a single drop of water can mean instant death?
The commercial editions of this book will be coming out on the 4th of April, so pre-order your copy today! CHF 25 in trade paperback, or CHF 30 in hardcover (bonus – you can choose the UK or US cover!).