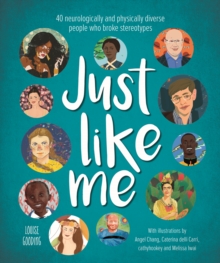 Just Like Me by Louise Gooding is a collection of the true stories of 40 inspirational figures from around the world, all of whom are physically or neurologically diverse. It features the people you might immediately think of, such as Greta Thunberg and Stephen Hawking and many others, such as Usain Bolt and Simone Biles, who might surprise you.
Louise lives in Zurich and is a neurodivergent author, with neurodivergent children and family members. She wanted to offer a way to allow parents to inform themselves and their children about physical and neurological diversity and demonstrate that the world is full of people who are a little different in one way or another.
Each biography is beautifully illustrated and contains a description of what makes that person 'different; not less'.
I caught up with Louise and she told told me all about the fascinating adventuue she has been on, both as an author and a neurodivergent parent.
The book is available to Books Books Books. It costs CHF 19.50 (+CHF 5 postage). Please contact us to reserve your copy.