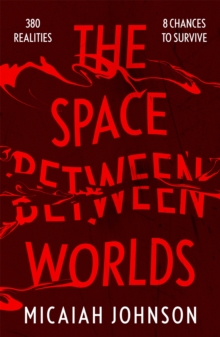 Genre: Sci-fi
This book is a soft sci-fi story about multiverse travel – but you can only travel to universes where you're dead. It's also a dystopian novel, and explores themes of class and privilege – because only the poor, from outside the walled city of the wealthy, are likely to be dead in other realities and therefore able to travel to them.
My mother used to say I was born reaching, which is true. She also used to say it would get me killed, which it hasn't.

Not yet, anyway.'Born in the dirt of the wasteland, Cara has fought her entire life just to survive. Now she has done the impossible, and landed herself a comfortable life on the lower levels of the wealthy and walled-off Wiley City. So long as she can keep her head down and avoid trouble, she's on a sure path to citizenship and security – on this world, at least.

Of the 380 realities that have been unlocked, Cara is dead in all but 8. Cara's parallel selves are exceptionally good at dying – from disease, turf wars, or vendettas they couldn't outrun – which makes Cara wary, and valuable. Because while multiverse travel is possible, no one can visit a world in which their counterpart is still alive.

And no one has fewer counterparts than Cara. But then one of her eight doppelgangers dies under mysterious circumstances, and Cara is plunged into a new world with an old secret. What she discovers will connect her past and future in ways she never could have imagined – and reveal her own role in a plot that endangers not just her earth, but the entire multiverse.
The book also contains a bit of romance, a bit of LGBTQ+, and a heap of worldbuilding. It's a quirky little book, and the premise immediately appealed to me. It's probably not a book for hardcore sci-fi fans, and at times felt a bit more like a YA book, but I thoroughly enjoyed it – I like a good, tough, flawed female protagonist, and Cara definitely fits the bill!
In Stock, CHF 14